Johnny Keys Music Calendar
Saturday
January 30, 2021
Randolph, New Jersey
Sunday
January 31, 2021
Montclair, New Jersey



NOTICE!





To All My Music Friends:

Congratulations to all! Through our sacifices and teamwork, we see the light at the end of this dark road. Music venues are starting to open, J&S Roadhouse has some new bookings and is starting their thursday open mic! Open mic may start looking a little different than before; performers are requested to bring their own microphones, stands and cables. Social distancing and face masks are still in fashion. Best wishes to all, lets be smart out there kids!

Corona Virus (CoViD-19) is still a "thing". For more information, please use these links :



Please practice good hygiene and be safe, lets all make this reopening a success!


Take steps to protect yourself:


Wash your hands

often with soap and water for at least 20 seconds especially after you have been in a public place, or after blowing your nose, coughing, or sneezing.
If soap and water are not readily available,

use a hand sanitizer that contains at least 60% alcohol. Cover all surfaces of your hands and rub them together until they feel dry.
Avoid touching

your eyes, nose, and mouth

with unwashed hands.
Avoid close contact

with people who are sick.
Stay home

if you are sick, except to get medical care. Learn

what to do if you are sick.
Put

distance between yourself and other

people

if COVID-19 is spreading in your community. This is especially important for

people who are at higher risk of getting very sick.
Cover your mouth and nose

with a tissue when you cough or sneeze or use the inside of your elbow.

Visit the CDC site here to learn more on how to protect yourself: https://www.cdc.gov/coronavirus/2019-ncov/prepare/prevention.html











Johnny Keys is available for performances at nightclubs, restaurants, private parties and special events. Johnny Keys plays a wide variety of musical styles from classical to country to rock covers on guitar and keyboards. Ask about our open mics! Email for availability!

Blueberry Pie gig at Big john Pub!
(photo by Manhattan Rob Walsh, February 8, 2014)


Open Mic at Big Johns Pub
Well, we can say "that is that" with the closing of Big Johns Pub, the open mic landscape of northern new jersey has forever changed. I will always value the friends and the great music we made on Thursday nights. I have been getting out to local music shows and open mics.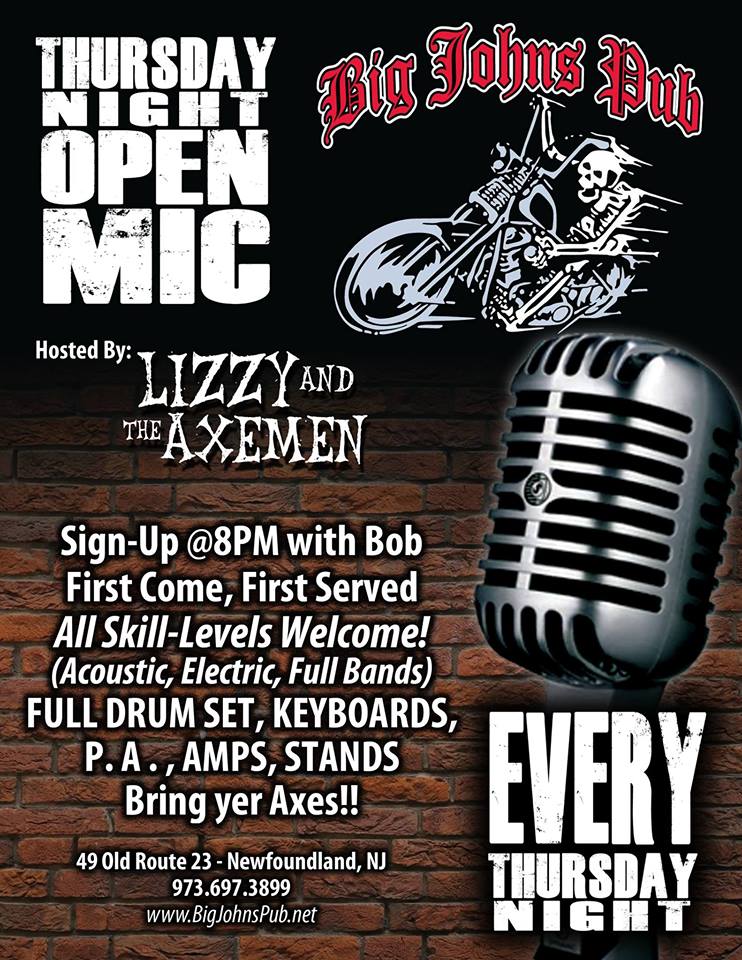 The torch has been passed to Bob to host the Big Johns Pub Thursday Open Mic. Bob and his crew will be playing with local musicians every Thursday Night beginning at 8 PM. I will be stopping by with my piano on a regular basis fro the Jam. Susie Q will be hosting an open mike every other Sunday during the Winter Months so check Big Johns Pub Website for more details!

Well, never say never! It looks like we will be doing an open Mic at Big Johns Pub in January and February 2013! The Last open Mic Ever was a big success thanks to all the talented friends that stopped by to play.

And thanks to Susie Q, the Sunday Open Mic continues into March 2013. Susie Q is doing a great job of it and I will be attending regularly. So stop by every other Sunday between 4 pm and 8 pm for some fun playing music with friends at Big johns Pub!
Susie Q

Open Mic at Big Johns Pub is back in Newfoundland in 2013!
BIG JOHNS OPEN MIC REVIEW
GET DIRECTIONS TO BIG JOHNS PUB!


Me and Pancakes!

---
Johnny Winter Show

SORRY KIDS, THE JOHNNY WINTER SHOW IS A COMPLETE SELLOUT BUT WE TOOK PICTURES!
Blueberry Pie Rocking Blues Band will be opening a show for Blues legend Johnny Winter at Brian's Backyard Barbeque in Middletown, NY on April 29, 2012. Please join us at 4 PM as the band looks foward to meeting their guitar hero and opening the show with some new original songs. RESERVE YOUR TICKETS NOW, this show will be a sell out!

APRIL 29, 2012 4PM
Brians Backyard Barbecue
1665 Route 211 East
Middletown, NY
845-692-3227
http://www.briansbackyardbbq.com/






---
---
Open Mic at Camp Ruthie

Weekend Retreat/jam in the Catskill Mountains near Roscoe, New York with Jukebox Joe, Marty on steel guitar and Scott along with some of the Blueberry Pie Band Check out some Pics here!




























---
---
Polly's Dock 2011 Fishing Tournament

PICTURES FROM THE 2011 LBI FISHING TOURNAMENT
On August 6 We will be returning to Polly's Dock to perform at their Annual Fluke Fishing Contest/Pig Roast on Barnegat Bay at Beach Haven. If you are on Long Beach Island, stop in and enjoy a sunset barbeque on the dock. BYOB (i think). The band, Blueberry Pie's RnR plus Freddo, Moses johnson on drums + some very special guests on vocals, should be starting around 3 PM. PICTURES FROM THE 2010 LBI FISHING TOURNAMENT

If you couldn't make it this year, we are already planning 2012, so stay tuned!!

Our first annual beach party worked out pretty well. We hosted 25 people at two beach houses in Surf City on Long Beach Island with nightly acoustic jams and barbeques. Check out some pictures and
Pollys Dock Sunset Jam

Pollys Dock
112 West Street
Beach Haven, NJ
website
We will be back on LBI summer 2011, stay tuned! August 6th with the Mojo Bay Blues Band

---
Pat Jones and Friends
Jazz/Rock/Blues by Pat Jones with additional guitar by Ralphie and Ruthie, Freddo on bass, Carl Arena on drums and me on keys. Check out the Pat Jones Website for some great new tunes!



---
Blueberry Pie Rockin' Blues Band
See pics from a housewarming party with Blueberry Pie+
February 8, 2014 - Join the Blueberry Pie Band for a night of dancing and Rockin' Blues at Big Johns Pub, 49 Old Route 23 in Newfoundland, NJ. The fun starts at 9 PM, don't be late!
DIRECTIONS

Blueberry Pie Xmas at Lou's Tavern in Hillsdale....more pics..
See Pics from the Blueberry Pie Show at Jack Kelly's Bar and Grill in Haverstraw, NY 10PM February 12th!

Kokopelli - by Ruth Mary Mesrobian - (Ruthie gave me the Spirit of Music for Xmas!) Kokopelli is venerated by some Native American cultures in the Southwestern United States. Kokopelli presides over both childbirth and agriculture. He is also a trickster god and represents the spirit of music. Ruthie explained that Kokopelli wanders from village to village playing music and if you see him, you have to feed him and buy him drinks :-D
Blueberry pie is my favorite with a nice scoop of vanilla ice cream on the side, but the Blueberry Pie Rockin' Blues Band is a rockin' blues band with drummer Doug Volpi calling out tasty numbers featuring guitarists Ralph and Ruthie with Freddo on bass. Rounding out the band is Gary on harmonica and guitarist/violinist Gene.
Johnny Keys Trio
Me and Burnt Meadow Boys Mike Dietchel on bass and Marcel on drums having a little fun at Richie Rich's surprise birthday party at the Mountain Rest Inn. It sure ain't country!
Have a listen!

Been a Long Time - Johnny Keys Trio

Band of Brothers
Brian Fitzpatrick and the Band of Brothers at Mexicali Live! This will be our first time headlining Mexicali. Joining us on the bill are our good friends Jim Hayes and the Buddha Brains and Blueberry Pie! This is going to be a GREAT night of music! Tickets available online at: http://tinyurl.com/22rjt6v